Happy Cyber Monday, everyone. I hope that everyone had a great Thanksgiving, and a great weekend. Today is one of those deal days when your inbox is overflowing with email promotions from every company that has your email address, and it can be overwhelming to sort through them all and find the really big deals.

Everyone knows about the big Cyber Monday deals from major retailers like Amazon (who has some great deals today, but I wanted to share a few of my favorite less known deals with you hear.
You can visit

http://www.cybermonday.com/

for a comprehensive least of many (most?) of the deals today.
For the Sports Fans (or those shopping for them):

NFL Shop has 15% off everything (except Nike jerseys) and free shipping (no minimum purchase) with the promo code CYBMNNFL. This does combine with other discounts, including their current sale of all T-shirts 15%- 40% off!

MLB Shop has buy one get one 50% on their site today. Read the fine print though, there are a few exclusions.

Fans Edge has 15% off everything and free shipping (no minimum purchase) as well. This is a great source for all sports, including college.

Other Favorites


Say Yes To
(Carrots, Tomatoes, Cucumbers, etc.) offers really great natural products. I got their lotion in an event goody bag once, and it was awesome. Today, from 12pm - 2pm you can buy up to two of their products for $2 each! Great to try for yourself or a gift idea.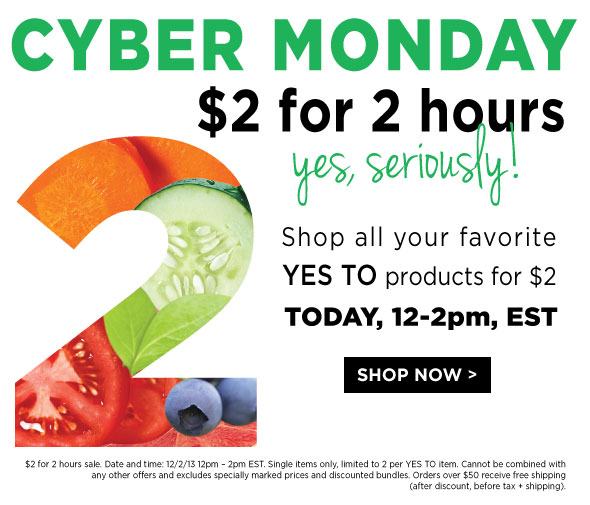 Lilly Pulitzer
has some great gifts with purchase today including a Bow Ring and a tote bag free with any purchase, and a Bow Ring, Bow Bangle, and tote bag free with any purchase of $75 or more. They're also offering $2 gift wrapping which includes a free key chain.
Happy Shopping! Did you score any great deals today? We'd love to hear about them.